Being a Good Team Leader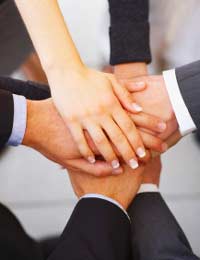 Team success can be heavily influenced by the person leading the team. But what makes a good team leader? Here are some of the characteristics an effective team leader should have:
A Willingness To Serve And Support His/Her Team
Leaders who are willing to roll their sleeves up and "lead from the back" and not just the front will win the respect and loyalty of their team. This sort of "servant leadership" is also important as it will encourage other team members to serve and support each other – in other words, leading by example.
An Ability To Build His/Her Team
Teams are all about people and relationships and individuals are more likely to contribute when they feel valued as a team member. Most people will care more about their personal feelings and their relationships with others in the team, than necessarily their tasks within the team – therefore, it is crucial for a team leader to build a positive team environment and develop the relationships between his members. This is important not only when the team first forms but also when a new member joins an existing team.
Confidence And Expertise
Team members need to feel reassured that their leader has (or has access to) the knowledge and expertise required to lead them in the right direction. In addition, they need to know that their leader has the confidence to lead them through any obstacles and challenges which may appear.
An ability to inspire and motivate
True leadership is getting people to follow because they want to, not because they have to – this is called self-motivation. One way for a team leader to motivate people is by inspiring them through his/her own enthusiasm and energy – to "fire them up".
Coolness Under Pressure
No one admires a team leader who goes to pieces under pressure or who takes their temper out on other team members. The real test of a leader is how he or she performs under pressure and a leader who can handle himself coolly and confidently will win the respect, admiration and loyalty of his team.
A Willingness To Shoulder Responsibility
Good team leaders will take on responsibility for the team – they will not shirk their duties and they will not be afraid of facing up to their dues. This also means that they will not pass the buck or blame others when things go wrong – they will take ownership for their part in any problems, whilst also encouraging other team members to acknowledge their contributions.
Quick, Positive Decision-Making
People look to the team leader in times of crisis - they need someone who can take charge, assess the situation and make a quick, positive decision. There is nothing worse than a weak, indecisive team leader who lacks confidence and drive. This not only leaves the rest of the team feeling frustrated but will also inject uncertainty and anxiety throughout the team.
Great Communication Skills
No leader, in any situation, will succeed unless he knows how to communicate with his followers. A leader may have all the other skills but if he lacks good communication skills, he may as well be useless. A good team leader should be able to articulate and communicate the team's rules, goals and expected duties clearly and persuasively, while also being able to be diplomatic in the face of any conflict. He/she will be approachable and empathetic so that all team members will feel that they are valued and understood.
For anyone in charge of a team, developing good leadership skills will reward you with greater success for the team and thus greater success for yourself as well.
You might also like...