Working With a Business Mentor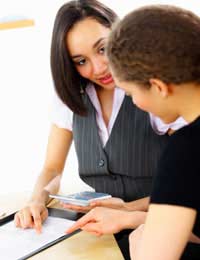 A mentor plays a varied role in helping an individual develop, build and establish a business. Not only will the mentor guide and advise as the business relationship grows, but they will also become a trusted friend and confidante.
Choosing A Business Mentor
Every forward-thinking business person would greatly benefit from working with a business mentor. Some companies offer access to a business mentoring programme, although a suitable mentor can be found via professional networking methods, through contact with former bosses and social networking groups.
You will learn a great deal from a business mentor so it is important to work with someone you have a natural rapport with. Building a business relationship on mutual trust and respect is also important as this ensures that both parties are benefiting from the professional exchange.
The Value Of A Business Mentor
A mentor is a person who demonstrates entrepreneurial flair and knowledge in a business arena. A mentor may choose to offer their time in order to boost their own managing, consulting or teaching skills. The benefits to the mentee however, are far greater as they will be gaining business knowledge and insight to develop personal skills and grow their business.
A mentor has nothing to sell. Their involvement in your business development is based on a desire to help you grow your business by sharing their personal experiences and knowledge. Valuing the time that is spent in the mentoring process, and exchange, will enable the mentee to gain substantial value from the process.
Demonstrating Commitment To The Process
In order for any working relationship/partnership to flourish the individuals involved must be able to demonstrate a firm commitment to the mentoring process. To build a solid business mentoring relationship preparation and consistency must be in evidence. The frequency of the business knowledge exchange will also impact upon how the mentoring programme develops. Showing a commitment to the process, by including updates and working on short and long-term issues and goals, will ensure that both the mentor and mentee gain from this partnership experience.
Be Clear Of Your Needs
Working on a clear mission statement means that an individual does not take up more of their mentor's time than required. A business mentor is a busy person, who also has a home life of their own, so understanding that making good use of the time you have scheduled for mentoring means that you both make the best use of the quality time you have set aside for business growth and development.
It is important to demonstrate mutual respect by listening and absorbing what your mentor is telling you. A mentor's role is to guide you through the development of your business and not to do it for you. By listening and clarifying, before taking action, you will learn the steps required to elevate your business.
Take A Personal Interest
A mentor is a human being. Taking interest in them, as a person instead of as a business commodity, will ensure that your business partnership is built on a foundation of mutual respect and trust. Whether your business exchange is conducted over the internet or in person taking an interest in your mentor, by sharing a joke or asking about their life, keeps the working partnership real and grounded.
You might also like...