The Importance of Ethics in Leadership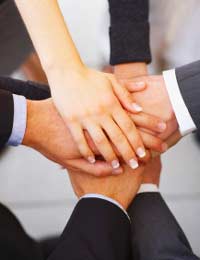 Ethical leadership is about far more than having an understanding of the right values, or of having a strong character that leads by example. An ethical leader not only has high values and the determination to succeed but also understands the importance of building a strong framework that allows others to follow the examples set so that everyone benefits. Ethical leadership is about striving for the same goal and embodying the same purpose, values and vision.
An ethical leader works to create an open conversation, and working practice, that encourages the sharing of ideas, knowledge and vision so that the benefit of the learning is shared. The leader must also compel others to follow the lead that he/she sets by the standards that are reflected in the way they live, influence and inspire.
The Characteristics of Ethical Leaders
An ethical leader is someone who embodies the purpose and values of the company, organisation or team that he/she works for or leads. This leader is driven to perform to the best of their ability and compels others to do the same. Maintaining strong ethics in a professional and personal capacity marks an ethical leader as someone who stands out from the crowd. To be an ethical leader requires the ability to be open, honest and direct in all situations and with all kinds of people.
The understanding of integrity is fundamental to the role of the ethical leader. Within a company or organisation an ethical leader can only lead and influence others if they are able to maintain a consistent energy that remains morally focused, determined and forthright.
Ethical Focus
Leadership of any kind is generally powered by an individual who is driven to perform to the best of their ability, and who is determined to overcome any challenges and obstacles along the way to success. To be able to overcome personal ego therefore requires the ability to understand personal strengths and weakness and to put aside an individual ambition so that all focus is put towards the growing of success as a whole, for a company, team or organisation. An ethical leader forsakes personal success so that they can drive and inspire others to achieve a shared vision, dream and goal. A leader who has high moral values leads by identifying levers such as a shared incentive that motivates all to work together and the development of loyalty. In this way the leader gains their success through the success of the team, and not simply through following their own ego.
The Creation of Value
In order to be a successful leader an individual must bring value to the team, group or company they are asked to lead and direct. To do this successfully an ethical leader must set up open communication where the basics of value is routinely discussed and explored. Leaders must also take responsibility and accountability regarding bringing value into the role and have an understanding of the alternatives. Having a strong commitment to creating a flow in communication, business and knowledge enables the ethical leader to empower whilst creating loyalty and productivity.
Knowing the limits of the values is also important. All values have limitation in the way they work within a particular context or situation. An ethical leader must be knowledgeable in regards to principles and values of individuals and be open to learning about the views of others.
How to Become an Ethical Leader
Ethical leaders direct and influence from a profound place of understanding principles, values and the need for a clear acceptance of the role they play in enabling others to grow in their personal knowledge, self-worth and professional career. To become this type of leader an individual must be willing to honestly examine their beliefs, thinking and goals. Once able to understand personal strengths, weaknesses, behaviours and limitations a leader can commit to willingly helping others by talking responsibility for the way in which their own actions affect other people. This is called the Responsibility Principle.
Ethical leadership requires that you explore your most important values and principles, what others would say your values are, how what you do at work and at home reflects on your values and also what you would like to accomplish within the leadership role. If an individual is able and willing to admit responsibility for self, in all life situations, they are able to understand the importance of truth and the role this plays in inspiring others to follow this example.
You might also like...
what would you define a manager that possesses qualities of both a leader and manager? if theyre both, surely they classify as both?
XShazzabbyX
- 22-Oct-19 @ 4:25 PM
i would like to ask you two questions which are related each other, 1. what is the differ b/w leadership and management? according to organization or company and the government please clear. 2.what are the benefits of leadership? thanks so much i hope to answer on time.
Coment
- 12-Dec-14 @ 1:29 PM