Leadership in Meetings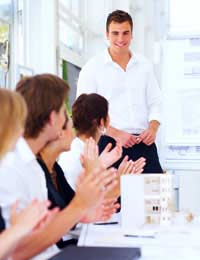 Have you ever tried to schedule a meeting for your group or organisation, only to have everyone groan and start looking for excuses for why they can't attend?
Whether it is a staff meeting at work, an annual meeting for a hobby club or even a family meeting to discuss domestic affairs, many people hate meetings and it's no wonder. They are often badly run, achieve very little and waste precious time which could be spent on something more worthwhile. They may be dominated by one opinionated member, to the exclusion of all others; or taken up by two opinionated members arguing over one small point – or at the other extreme, full of silent members reluctant to participate either out of fear or laziness.
Yet meetings are important, not only to check progress and assign tasks, but also to perpetuate an organisation's culture and climate, and to reaffirm membership. Therefore, as a leader, it is vital to be able to conduct effective, productive meetings and here are some tips to help you:
Decide If You Really Need A Meeting At All
Very often, meetings are called when a few phone calls, emails or even one-to-one between two colleagues may have resolved the problem and been a more efficient way to deal with things.
Plan The Meeting
Take time to think about the objectives for the meeting – know what you're trying to achieve with this meeting, what might be achievable within the time frame you have and what might be better left to a future meeting.
Prepare An Agenda
Don't be afraid to prepare a scripted agenda – this will keep things moving and prevent people getting bogged down (remember, time is money!) as well as ensuring that you don't run out of time before covering all the necessary points to be discussed.
Send Out Meeting Information In Advance
Inform people of the agenda and the meeting length ahead of time, so that they can prepare for the meeting and so that they can allocate the right amount of time.
Make The Meeting Interesting
Use all the tools and activities at your disposal to make the meeting interactive and fun; try to turn it into a learning event for everyone so that all the people attending feel that they have gained something in return for giving up their time.
Set Up A Good Meeting Place
It is worth taking the time to select a physical place that is comfortable and spacious enough to host the number of people who will be attending the meeting. In addition, make sure that it has all the right equipment and visual aids (eg. enough plug points, flip charts, projectors, etc). Don't forget to think about appropriate refreshments.
Assign someone to take notes
It's a good idea to have one person who is responsible for taking notes, or minutes, so that there is a record of who attended, what was discussed, what key decisions were reached, what the next steps are and who are assigned to which tasks, which need to be completed by what date.
Set Some Ground Rules
To keep things moving and prevent certain members from dominating the meeting, it is a good idea to establish some ground rules such as: When the meeting will end; How each member will be heard; How conflict will be resolved; What is expected of each member; What topics are confidential topics.
Keep The Meeting Focused
While it is good to encourage participation and take the time to listen to all members, so as not to stifle creativity or inadvertently insult any participants who stray off-topic, it is also important to stay focused on the agenda topics and not to allow people to wander of topic or become distracted for too long.
Encourage Participation
Get all members to participate by asking for different viewpoints and welcoming new ideas; using brainstorming techniques to underlie the fact that there is no "right answer", asking open-ended questions and focusing on ideas, not people.
Follow-up Afterwards
Either do it yourself or assign someone responsible to follow-up after the meeting. Monitor the "next steps" that were decided and check that everyone understands their tasks and do not forsee any difficulties accomplishing them.
Finally, don't forget to always arrive on time and allocate enough time so that you stay until at least the planned stop time. While it is important to take meetings seriously, it is also important to have some fun while attending and this will help make meetings more enjoyable.
You might also like...