Using Leadership to Motivate Colleagues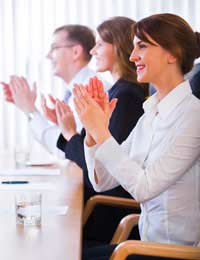 One of the greatest challenges for leaders is finding ways to effectively motivate their followers and team members. This can be difficult because motivation is a very personal thing and what works for one person may not work for another at all.
Many leaders make the mistake of thinking that what motivates their followers is the same thing that motivates themselves – or what motivates one member will work equally well for another. Sadly, with motivation, it is definitely not one size fits all and a good leader learns to use different motivation methods with different people, to produce the best results.
What Is Motivation?
Motivation is often thought of as the incentives or conditions which will cause a person to perform a desired behaviour. These can be external factors, such as material rewards, or intrinsic factors, such as personal beliefs, values or even fear. Arguably, the best type of motivation comes from within – this is self-motivation or intrinsically-motivating activities which a person partakes for no reward other than the enjoyment that the activity brings them.
How Can I Use Leadership To Motivate My Team Members And Colleagues?
There are several ways in which a leader can motivate their followers and peers:
Motivating through competition – most people love an element of competition; this is because there is an urge to compare our performances with others and a satisfaction when we compare favourably. Everyone loves being a "winner".
However, it is also important to keep in mind that different individuals have different levels of competitiveness and some may not find competition as motivating as others. In addition, losing in a competition is much more de-motivating than winning is motivating so this is risk you have to take. Finally, competitive spirit between team members can also backfire and damage bonds built between members in the group.
Motivating through recognition – almost all individuals are motivated by recognition. In fact, recognition for achievements and contributions through positive feedback is one of the most effective ways that managers and leaders can motivate staff in the workplace. It is much more effective than de-motivating factors, such as punishment for mistakes or frequent criticisms.
Note that recognition is different from competition because an individual's achievements are not compared to those of others.
Motivating through challenge – people like being challenged so that they can work towards a personally meaningful goal. In order for the challenge to be motivating, it must be made up of activities which are increasingly difficult but still attainable.
Motivating through cooperation – team-spirit and the feeling of cooperating with and helping others is a very motivating factor. It gives individuals a feeling of satisfaction, as well as a feeling of membership.
Motivating through curiosity – people can be motivated when they are stimulated to learn more. This is often brought about by providing something in their environment which arouses their curiosity and promises to take their present skills or knowledge to a higher, more desirable level.
Motivating through control – most people enjoy feeling in control, especially of their own destiny. This urge can be very motivating, especially if you enable members to believe that their contribution does make a difference.
Motivating through fantasy – this uses the power of the imagination so that individuals can conjure up mental images or situations to motivate themselves. This has been used many times in history by charismatic leaders with powerful oratory skills to motivate followers by creating a fantasy which appeals to their personal desires and aspirations.
In general, when followers feel supported and in control, they will stay motivated. However, it is vital to remember that motivation is a very individual thing and the degree of motivation you can achieve with any one strategy is very dependent on the personalities of the people involved. Very often, the only way to determine which strategies and factors motivate the different members in your team is through trial and error.
You might also like...