Leadership and Time Management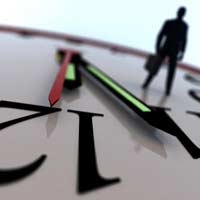 Time management is incredibly important in any leadership role – not only is time valuable and does often actually equate to money, but it is also one of the few things which once wasted can never regained. No matter your wealth, power or position, you slow down, speed up or stop time. So learning good time management is an essential skill for an effective leader.
Managing Time…
One of the best ways to improve your time management is to analyse how you spend your time and trying to implement ways to stop wasting time on some tasks and save time in others. However, be careful of getting too bogged down in details – for example, you could spend so much time creating priority lists or time management spreadsheets, separating work into 'priority piles' or colour-coding tasks that you end up wasting more time in trying to manage it! All you could end up implementing time management techniques that are so complicated, you end up disheartened and return to your old bad habits.
Time Wasters
Everyone is guilty of wasting time to some extent – some of us have really bad time-wasting habits which we may not even be conscious of! Here are some of the most common:
Procrastination – the biggest enemy!
Spending a lot of time in meetings which are ineffective and unproductive
Being Indecisive (worrying about something but putting it off)
Poor prioritising - focusing on the wrong tasks first
Making stupid, unnecessary mistakes which then require time to correct and do over again
Being unrealistic in time estimates
Poor planning and lack of contingency plans
Having to deal with too many interruptions or distractions
Poor organisation
Micro-managing others in the team
Implementing things without thinking it through and analysing the situation first for the most efficient solution.
Not learning to delegate
Not having policies and procedures in place to smooth things along
Time Savers
At the other end of the spectrum, there are many things we can do to save time:
Focus on doing only one task at a time
Establishing priorities, divided into short-term and long-term
De-cluttering
Distinguishing between personal deadlines and ones for the whole organisation
Not engaging in time-wasting activities with other people (e.g.. unnecessary gossip)
Keeping up-to-date and accurate calendars and dairies
Abiding by your calendars and diaries
Tackling all correspondence in a timely manner, with quick, short responses and memos
Focusing on managing the decision-making process, as opposed to just the decisions
Keeping things simple
Learning to empower other members of your team by delegating everything possible
Having realistic estimates of the time required for each task/project
Setting aside specific time for specific tasks/project, especially high-priority ones
Making 'To-Do' lists and checklists
Being able to adjust priorities in response to changes in the situation or new tasks emerging
Knowing when to stop on a project or task – not falling into the trap of nit-picking perfectionism
Planning and managing meetings carefully so that they have a time limit, a purpose and an expected outcome – and only involve the essential people.
By following these simple steps – avoiding the time-wasting activities and trying to incorporate more time-saving activities in your routine - you can ensure that you practise effective time management in your leadership roles.
You might also like...