Leadership and Making Presentations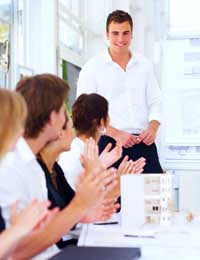 Presentations are very important ways for a leader to communicate ideas and information to his team, organisation or group of people key to the success of his project. Giving good presentations is a crucial skill to master in any leadership role and all effective leaders should understand the key components of a good presentation – which are:
Comprehensive, relevant content presented in a form that is easily digested in one sitting
Clear, logical structure which can be paced so that the audience can easily follow and understand things.
Preparation and packing to hold an audience's attention and inspire interest
Planning And Preparation
A good presentation is all about planning and preparation. One good way to prepare is to ask yourself the following questions:
What do I hope to achieve with this presentation?
Who will be audience?
What does the audience already know about the subject?
What kind of attitude will the audience likely to have to the topic? Will they be receptive and friendly or defensive and hostile?
The first part should be an introduction, perhaps with a funny story, interesting statement or fact, an apt quotation or even an activity to act as an ice-breaker and help get the group warmed up for your presentation. However, it is also important for the introduction to include the topic of the presentation, so that the audience knows what the purpose of the presentation is.
After the introduction should come the main body of the presentation. While it is important that you research all the details and prepare as fully as possible, it is not a good idea to write out the presentation word for word. It is far better to create an outline, perhaps by noting several main points on index cards, which will help to jog your memory during the presentation.
You can structure your presentation in several ways – for example, you can follow a simple timeline, with all information presented in a sequential order; you can work towards a climax with information being presented in order of increasing importance; you can present it as a problem and the associated solution or you can arrange the information from simple to complex.
The most important things to remember is to not include too many points – you cannot expect an audience to digest and remember too much within the timeframes given for a standard presentation and you want to leave them with a clear picture of what you have said.
Don't forget to include visual aides, such as charts, slides, graphs and handouts, as these can help to liven up your presentation, capture your audience's attention and generally make things more interesting.
Finally, finish your presentation with a good closing, where you will summarise the information. This is also a good time to ask for any questions and of course, to thank the audience for their time and attention.
The Secret To Good Presentations: Practice!
In addition to collecting and organising your material, it is vital to practise giving your presentation. You should know your presentation so well that you only need to glance at your notes from time to time to help prompt you and move things along. This will help greatly, especially if you have to deal with nerves on the day.
Practise speaking your presentation out loud, practise varying the pace and tone of your voice and practise manipulating the visual aides you are planning to use so you do not become flustered during the real thing if things do not go smoothly.
Ask friends, family and colleagues to help provide an audience for you to practise in front of – nothing beats a trial run in front of a live audience and their feedback can be very valuable. Alternatively, you can video yourself giving the presentation and review it critically, with a friend or colleague.
You might also like...