Leadership in Emergencies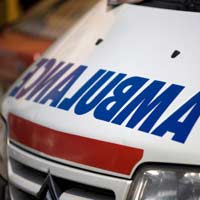 Having to take charge of an emergency situation can be one of the biggest tests of your leadership skills you will ever experience. Everything is under extreme pressure and there is no room for mistakes – one bad decision on your part can cost a life or significantly injure more people; however, your also have the potential to save lives and mitigate a big disaster by employing your leadership skills to good effect.
All the usual leadership skills will be required but three in particular are especially important in an emergency situation:
Leadership Skill #1:
Keeping Your CoolRemaining calm and collected under pressure is one of the attributes of a good leader and there is nowhere this is more valued than in an emergency crisis! While panicking may be the natural thing to do, it will accomplish nothing, may cost you valuable time and may even complicate an already risky situation.
By maintaining your own calm composure, this can have a beneficial effect on other around you. It will also help any medical personnel respond to and deal with the situation more quickly and effectively. For example, if you are panicking, you may not be able to relay any vital information to them clearly whereas if you remain calm, you will be able to explain the situation better and they will be able to understand exactly what the situation is and what type of first aide the sick or injured may need.
If you find yourself in charge of an emergency situation and you can feel panic overtaking you, a good strategy is to stop and take long deep breaths. This will force more oxygen into your brain and help you to focus. If you find that after one minute of continuous deep breathing, you still feel overwhelmed then don't hesitate to ask for help. A good leader knows his own limitations and when to ask for assistance, so as not to endanger others around him.
Leadership Skill #2:
Time ManagementIn normal situations, good time management leads to greater efficiency and productivity. In times of emergency crisis, good time management can mean the difference between life and death.
As leader, it is your responsibility to assess the situation and decide – as quickly as you can – on a set of priorities. Timing is crucial when it comes to administering emergency medical care so it is absolutely vital to know what to do first in these situations and to do it fast.
However, do not rush! Run through each decision and choice in your head and think about the effects of it, before starting on any course of action. Rushing can cause you to make bad decisions or to become panicked and flustered.
Leadership Skill # 3:
Planning & PreparationA good leader is always prepared and since emergency situations can happen to anyone, at anytime, everyone should practise being a good leader in an emergency crisis. How can you do this? There are various things you can do, including:
Have a list of emergency numbers easily accessible, including the ambulance service, fire department, police, family doctor and vet, poison control centre and local hospital.
Have up-to-date medical history forms ready, especially for any members of the family or organisation who may have specific conditions which require special care and treatment.
Have a well-stocked, first aid kit handy – both in the office and home and also in the car.
Make time to take a first aid class – even a basic class will give you some essential life-saving skills, such as how to perform the Heimlich manoeuvre, perform resuscitation or treat broken limbs. Having these skills will also help you greatly in remaining calm in an emergency.
Learn and remember the symptoms which require immediate medical attention, both in children and adults.
Emergencies are one of the most important situations where good leadership needs to be shown. Without someone to take charge in an effective way, things can get out of control and more people hurt than needs to be whereas having a calm, effective leader in charge can significantly increase the chances of everyone surviving the emergency successfully.
You might also like...