A Sports Team Captain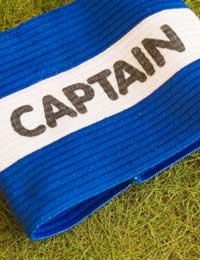 Perhaps nowhere is the importance of good leadership as apparent as in a sports team. A good sports team captain can lead his team to success and recognition; and can help a moderate team play better; whereas, a weak captain with poor leadership skills can hinder a team's chances of competing and bonding successfully.
Why Is A Good Sports Team Captain Important?
An analysis done by various coaches showed that although there are a variety of reasons why teams do not achieve their potential and ended their seasons early – such as injuries, conditioning, poor officiating and eligibility – there is main reason is lack of good leadership. And while leadership does come from coaches, the real leaders come from within the team itself so selecting a good team captain is vitally important.
Are You Sure You Want To Be A Sports Team Captain?
Being a sports team captain isn't just about wearing the cap or being the boss or even just cheering your friends on. It requires a number of things including:
the desire to lead by example
a passionate belief in team spirit
the ability to handle the conflicts that invariably arise when a team is under pressure
the desire to put more input in planning the team's strategies
the ability to handle problems which may arise in a fair and expedient manner (eg. disqualifications)
the ability to behave professionally and responsibility despite personal feelings of frustration and anger
a thorough knowledge of the rules of the game
a desire to build relationships with other members of the team, in good times and bad
the ability to handle the burden of being captain while still playing in the team
the ability to inspire and motivate and raise team morale
If you are able to possess these qualities, then being a sports team captain can be one of the most rewarding leadership experiences you can have.
How Can I Be A Good Sports Team Captain?
Being a sports team captain is a great opportunity to develop the leadership traits that will help you succeed in your future career, whether this is as a sports athlete or in another field of work. But how can you know that you are providing good leadership?
Here are some tips to help coaches gain confidence in you and help you lead your team to success:
Take charge – don't just rely on the coaches. For example, start the practice on time, even if the coaches are still getting ready or temporarily occupied elsewhere.
Always do more than is expected – stay longer, run farther, play harder.
Always take responsibility for your actions – don't play the blame game. If you make a mistake or cause your team to lose out in some way, own up, face the consequences and move forward – you will be respected more than if you try to wriggle your way out with excuses.
Lead your team by actions, not words. Anybody can talk – it is what they do that counts.
Don't put yourself above the rest of the team – just because you have the captain title does not mean that you should have any preferential treatment. A sports team captain is subject to the same rules and consequences as the rest of the team. See yourself as one of the team, otherwise there will be a division between yourself and your teammates.
In addition, continually try to be self-aware and improve your leadership skills. For example, think about the captains of various sports teams in the international arena and consider why they were chosen – was it because they are popular? The best player? Responsible? Honest? Dependable? A good listener? Motivating and inspiring? Remain calm and positive under pressure?
See how they lead by example and follow in their footsteps to become a great sports team captain yourself.
You might also like...
@craigy LeadershipExpert is right, it's okay to like winning but you should still care about having fun! There's more in life than winning!
ThunderTheWolf
- 18-Jun-21 @ 2:02 PM
Could you post a whole paragraph of a good leader and faction caption note because I have to give it to my teacher in 2 days and I don't know what to write or where to begin
Parry
- 9-Nov-20 @ 12:58 AM
VERY Helpful..i was struggling with sports captain witch i needed for me assessment feel like from just reading this i could become a sports captain myself...THANK YOU VERY MUCH
tommyT
- 5-Sep-19 @ 12:34 PM
Thank you for your tips...and it made me to realize the importants of captaincy..
Mervin
- 18-Aug-19 @ 10:53 AM
It was very helpful for me as I got selected for the sports captain
Danny
- 23-Jun-19 @ 4:27 PM
I have to write a letter of intent for my teams leadership position auditions and I am really struggling to write it. Any advice?
Eliza
- 19-Apr-18 @ 6:42 PM
Thank you, this has extremely helped for my application for being sports captain
Icaptainboomz
- 12-Oct-17 @ 4:16 PM
YB hu and fyifykfykfyfgkfgkfykfykykfyfk
Sonic
- 11-Oct-15 @ 9:50 AM
@craigy as long as you're having fun that's the most important thing!
LeadershipExpert
- 14-Oct-14 @ 2:05 PM
I have the BEST leadership skills around here. Whenever my team plays they don't care about winning they just care about having fun!?? Oh, Yeah!
Craigy
- 14-Oct-14 @ 3:24 AM