Leadership and Communication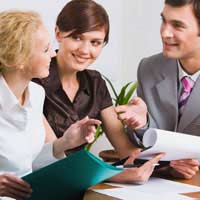 It has long been demonstrated that effective communication from leaders is directly linked to success for a group or organisation.
In fact, studies show that chief executives and other senior leaders place the highest value on effective interpersonal communication because they know that productivity depends on effective communication.
Furthermore, not only is communication down the chain of command important, but communication is also vital between followers, colleagues or team members so as to keep each other – and their superiors - informed.
Communication channels need to be open down, up, and throughout the organization and the primary responsibility for communication in any organisation or group lies with those in leadership positions, since followers will take cues on how to communicate from leaders.
So how does a leader improve communication within his group or organisation?
Encourage Feedback
Group members may often be reluctant to provide negative feedback as they worry about the repercussions. However, honest feedback is vital for a leader to improve the group's performance as a whole. Therefore:
Make it clear that you want both good and bad feedback and show that you welcome disagreement on issues.
Focus the feedback onto the specific areas – don't encourage indiscriminate feedback which may consist of personal grievances between members, due to personality clashes.
Listen and use silence to encourage members to speak up – don't immediately take issue with comments raised by members. Use encouraging statements, like "Tell me more – "

Set aside time and schedule official feedback sessions – this will get more response than impulsive questions directed at members.
Don't forget to watch for non-verbal cues, which are generally not as well-controlled as verbal ones.
Listen Effectively
Once you are receiving feedback, it is important that you listen effectively to it. Listening is an often neglected communication skill. To listen better as a leader, make sure you:
Don't just concentrate on the facts – listen to the ideas as well. Many people concentrate exclusively on the facts and thus miss main ideas.
Prepare yourself mentally to listen – effective listening isn't just being able to hear words spoken to you – it requires a concerted effort to put aside anything which may divert your attention and distract you and to make arrangements to prevent any unnecessary interruptions.
Always keep an open mind and hear the other person out, before forming judgement or jumping to conclusions.
Try to put yourself in the speaker's place so that you can see things from their perspective. Remember to consider the speaker's knowledge, background, and grasp of the subject – which may possibly be more thorough and advanced than yours.
Reduce Misunderstanding
Many barriers to effective communication arise from misunderstanding, so it helps to be aware of certain points:
The same words may mean different things to different people. A simple example is what is considered "comfortable" for one person may be very different for another or what is considered "acceptable" to one person (e.g.. being 10 min's late) may be very different to another.
The opposite can also occur, when different words can mean the same thing to different people. Good leaders always consider the message in relation to its source and therefore ensure that they communicate more effectively.
Be careful of misinterpreting actions – it is natural to jump to conclusions based on another person's gestures, facial expressions or even eye contact. For example, someone who taps a pencil during a conversation may come across as impatient or bored but this may not necessarily be the case; similarly twitching or other nervous movements may not necessarily mean that the other person is anxious.
Be aware of that the quality, intelligibility and variety of voice all have an affect on misunderstanding. Based on how you speak and factors such as articulation, pronunciation, grammatical correctness, emotion, volume, force and pitch, others may form impressions regarding confidence, honesty, authority, experience and more.
All effective leaders realise the importance of good communication and thus are continually striving to improve themselves and practise techniques which enable them to become better communicators, as well as improve communication within their organisation.
You might also like...