Effective Exercises to Maintain Leadership Qualities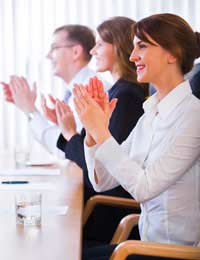 Whilst team performance depends on the input from all levels success will be reflective of the qualities and skills that come from leadership and mentoring. In order to maintain effective leadership, that continually motivates and moves a team forward in growth and performance, a leader will be required to regularly exercise strong qualities and develop weaker ones.
Boosting Personal Qualities
Good leadership requires consistent behaviour and exemplary skills. A confident leader, however, will inspire others through their personality and ability to show respect and understanding for others, rather than through skills and knowledge that has been acquired in the process of managing and leading other individuals. As a leader it is your responsibility to maintain the quality of your own personal skills and ability, whilst managing the skills of others. It is therefore important to acknowledge and accept personal limitations, and to know when, and how, to boost your leadership ability.
The Importance of Planning Exercises
Without considered planning communication can sometimes become difficult or restrictive within a team. A leader must be able to constantly prioritise and develop and/or redefine aims and goals. Without structure and careful planning performance and results will be less effective. A good leader will therefore make the time to plan strategies, ensure communication is open and agree objectives with individuals. Understanding the importance of using effective exercises, to increase qualities, should be part of a leader's key strengths.
How to Achieve Teamwork Consistency
Without a team of reliable, skilled and confident individuals around them a leader will be struggling to maintain high performance and productivity levels. Being able to motivate and inspire a team by skillfully spotting positive opportunities and knowing how to drive efficiency will ensure a team grows from strength to strength. This level of performance consistency can only be achieved through mutual confidence and respect in each other. In the leadership role it is your responsibility to unite skills and personalities so that individuals work together consistently well as a team.
Ensuring the environment supports mutual understanding is also beneficial to teamwork consistency.
Setting the Tone
It is important to lead from example and therefore a successful leader will be confident in his/her ability to develop a strategy that encourages followers to work both productively and efficiently. A leader must be able to spot potential and value in others, and to reward and promote good performance. By setting a personal example of the skills and forward thinking attitude that a leader is trying to instill in team players followers will be more confident in their own ability to consistently reach for and achieve goals.
Key Qualities of a Successful Leader
A successful leader is an individual who is willing to examine their own attitude when it comes to integrity, adaptability, vision and an appreciation of the value other individuals contribute. By regularly examining personal behaviour a leader can continue to adapt their own knowledge and skills so that effective leadership is delivered and maintained.
By working hard at maintaining a professional approach, whilst remaining supportive and neutral at all times, a leader will be able to build on previous successes and increase effectiveness and productivity.
You might also like...