Criticisms of Leadership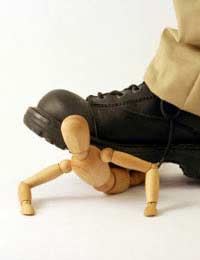 While most of us believe in the importance and value of leadership in ensuring the success of a group, there are still some who have strong doubts about the concept of leadership and/or specific criticisms about the way leadership is practised in the workplace and community.
Criticisms Of The Concept…
For some, there are issues with the concept of leadership in itself. For example, Noam Chomsky criticised the concept of leadership because he believed that it involved people subordinating their needs to that of someone else – and therefore possibly subjected to acts that may not be rational or desirable. Of course, in practice, many people do actually prefer to be "told what to do" and with good leadership, the acts they are subjected to will ultimately benefit the group as a whole and them as individuals so there is no ultimate loss…but the criticism is still valid as a theoretical debate.
The other criticism is aimed at the misinterpretation of the concept – for example, many political figures are dubbed as "leaders" and given correspondingly - power, when in fact they are simply "representatives" and their real authority simply lies representing the majority views of the group in question.
Leadership And The "Dark Side"
There is also criticism about the practice of leadership, mainly centred on the fact that the weaknesses of leaders may be magnified to the detriment of a group, due to their position of authority and responsibility. In other words, many of the qualities of a strong leader can have both a positive and a negative side – and the very strengths which cause a leader to be respected, valued and admired can also become liabilities when circumstances change.
For example, a leader whose popularity stemmed from the fact that he had good people skills because he wanted people to like him, could also run into problems because he would avoid the type of tough decisions that were likely to make people unhappy and him unpopular.
Personality certainly plays a huge role in the effectiveness of leadership. A leader's personality will dictate his/her preferred ways of handling situations and people – and there is a danger of damage to the group or individuals if the leader's position of authority allows him/her to indulge in his/her negative traits. Naturally, we are all human and we all have negative tendencies which will exhibit themselves at times of stress – however, certainly personality types may abuse their position and power as leader if they are not aware of and in control of their negative tendencies.
For example, an obsessive type of personality may respond to stress in obsessive ways, such as micromanaging, nitpicking and becoming overly bureaucratic. Narcissists, on the other hand, often become grandiose, treat others with contempt and fail to listen to them. All of these traits can be damaging to the group or organisation as well as detrimental to the morale of team members.
It is important to remember, though, that very few traits are "bad" in and of themselves – the negatives usually come from the way the leader chooses to display these traits. For example, communication skills can be a very powerful, positive trait but it can also be negative because leaders who are gifted in communicating may misuse this ability, such as using their language skills to foster an illusion of control when, in reality, things are out of control.
It is also important to note that what is seen as a negative or weakness can also be a source of strength in a leader. For example, the narcissistic leader can also be visionary, optimistic and able to inspire and motivate by the force of his or her dreams and charisma; the obsessive leader may also good at details and keeping the project running to schedule.
At the end of the day, most criticisms of leadership practice can be mitigated through programmes of self-awareness and self-development. In particular, it is vital that the negatives are understood in all types of leaders. Having an awareness of negative elements is important in leadership training and having an awareness of your own weaknesses and negatives is a crucial part of self-development and leadership training.
You might also like...