Leadership in Different Cultures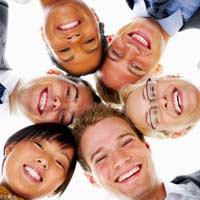 In order to be successful in business it is important that leadership development takes into account different cultures. A vast number of businesses and companies work outside of their country of origin and must therefore take into consideration the views, ideas and culture of foreign employees, suppliers and clients.
Culture Shock
Acknowledging that there are many ways in which the differences between cultures can be beneficial to your business will allow you to develop wider-ranging leadership skills. Leadership is about motivating and empowering others to follow instruction, and this can be successfully done regardless of the culture barriers that may exist. A good understanding and acceptance of a country's unique procedures and rules will enable any leader to get the best from their followers.
Cultural Issues
Respecting different cultures is an essential part of developing cross-cultural leadership skills. Individuals are often shaped by ethnic, racial, religious and national influences so it is therefore important to adapt and accommodate accordingly. Different cultures explore and acknowledge cultural issues in ways that they feel most comfortable with. For instance some countries that rely on a hierarchical culture may view the leadership stance of another country as being weak or uninspiring. This is generally because this culture expects to be dominated by a powerful leader with vision. An egalitarian culture, on the other hand, would view a direct, forceful approach as dominant and unappreciative.
How to Get Effective Results
In order to get the best results from people in a cross cultural environment it is important to learn as much as you can about the way cultural rules are applied. It is also important to learn as much as possible about the culture you are interacting with, and to not trust preconceived perceptions or stereotypes.
Spending a little extra time in conveying your message will also minimise misunderstanding. Having good communication skills is essential in any leadership role, and is doubly important when aiming to ensure your message is understood by people from different cultures and countries. A leader who has a good level of understanding of culture differences will also be more able to adjust their behaviour and approach accordingly.
Open Communication
Cultures communicate in either direct or indirect ways. Individuals from direct cultures express no difficulty in telling it like it is, whilst their more indirect counterparts would see this behaviour as rude and unacceptable and would therefore opt to communicate in a more harmonious way.
Cross-cultural leadership requires a good understanding of these differences, as well as the adaptability and flexibility to explore communication in both styles. Without the confidence and skill to explore communication across cultures a leader will remain unable to deliver a message successfully.
Businesses today rely heavily on competent cross-cultural leaders who are able to combine technical understanding with the organisational ability to motivate and inspire others, regardless of the personal values of the individuals they are leading. A leader who is confident about communicating cross-culturally will also stimulate innovation and inspire an organisation to work together to achieve effective results.
You might also like...