Are You a Natural Leader?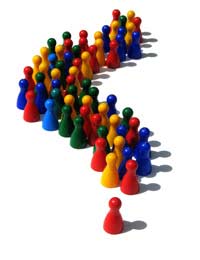 Have you ever wondered if you possess the qualities needed to be a leader? If so, you're not alone. Plenty of individuals ask themselves the question, "Am I what they call a 'natural' leader?"
To help you determine if you are, indeed, someone with leadership potential and aptitude, ask yourself the following questions:
1. Do others tend to follow you, even when you're not actively attempting to get them to do something?
"ALWAYS" - You may have the type of personality that makes people feel safe around you; thus, they want to follow your lead. However, it's important that you do not abuse this gift -- never use your ability to gather "followers" for untoward purposes.
"SOMETIMES" - You probably have leadership potential, but you may be undermining yourself and second-guessing your abilities. Leave self-confidence issues at the doorstep (or, better yet, oust them altogether!); they are only hindering you.
"NEVER" - Although you may be able to develop leadership skills, you will have to conscientiously work on them. Strive to emulate your leader heroes in actions and words. If you're having trouble determining what step to take first, consider taking on the services of a professional business/leadership coach.
2. Do people -- even strangers or those who don't know you well -- seek your advice on a regular basis?
"YES" - Leaders often are the "go to" people for advice, suggestions, counselling, et cetera. Just make certain that you don't try to fix everyone's problems. Be a sounding board, but if you don't have an answer, don't make one up.
"SOMETIMES" - If you find that individuals only occasionally ask for your assistance or advice, you may be unintentionally sending the message that you're available to some, but not to all. Work on establishing and projecting an "I'm open to everyone" aura.
"NO" - You may be coming across as too intimidating, even if you're not trying to be. Work on softening your approach physically (aka, with your body language) and verbally. Alternatively, you may be seen as someone who wishes to be left alone. If that isn't the case, work on how you will be perceived by others.
3. Are you willing to do any task to accomplish a goal?
"ABSOLUTELY" - You definitely have serious leadership potential, as natural leaders aren't afraid of getting into the fray. True leaders will often roll up their sleeves to get a job done, regardless of their titles or positions.
"SOMETIMES" - You may want to change your attitude a bit. If you think stapling copies for a meeting is beneath you, it's time for a re-evaluation of your priorities. After all, if the meeting is important, the task needs to be finished, and you're the only person who can accomplish it, why wouldn't you take on the responsibility?
"NOT AT ALL" - As with the "Sometimes" answer (above), it's time to get rid of your assumption that leaders shouldn't have to get their hands dirty (literally or figuratively.) The most inspirational leaders are those who practice what they preach as well as ask others to do only those things they would do themselves.
So -- are you a natural born leader? If not, start developing the skills you need to attain positions of leadership. If you are, though, try to hone your leadership tendencies and use them to your advantage in your work and personal life.
You might also like...