Team Building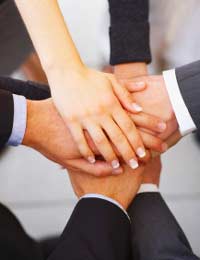 Team building is crucial in improving the collective performance of a group or organisation and it is a powerful tool for a leader to use to increase the chances of success for himself or his group.
Although team building is often talked about and believed to be practised, it can often be ineffective for several reasons: there is a lack of commitment in the group to a shared common goal; the team building activities practised are too generic to add any lasting value and there is a lack of proper assessment of the team.
The Foundation Of Team Building
The most important factor to successful team building is a commitment to a shared common objective or goal. This is the foundation that all good team building is built upon – without it, a lot of energy can be expended with very little result.
Remember, most people are committed to their own objectives over and above everything else therefore, it is important that they see the collective group objective as important as their own, otherwise they will not invest time and energy in team-building activities.
Group Vs. Team?
Many people make the mistake of assuming that a group of people automatically forms a team. In fact, a group is simply a set of people who happen to share a workplace or be part of the same organisational unit. The people within the group will all have individual objectives which may converge and be the same as the group objective, but may also be distinctly different and even competitive.
By contrast, a team is a group made up of individuals who have committed to working towards a single, common objective. Naturally, they will still have their different, individual objectives but these will contribute towards a higher collective one.
For example, in a marketing team, one person may responsible for client liaison, another for the direct mail campaign and another for sponsorship – but they are all united in the overall objective of improving brand awareness and image and therefore, not judged solely on their individual objectives.
Team Building Strategies
There are various kinds of team-building strategies which can be employed to enhance relationships between members of a group, as well as improving the collective performance of the group. These can be divided into:
Individual strategies – this involves the development of individual skills and gaining familiarity with the shared process
Relational strategies – this involves creating a sense of common purpose and commitment and improving the unconscious dynamics within the group
Between Group strategies – this involves tackling the barriers between different groups and organisational units
Cultural strategies – this focuses on creating a teamwork ethos within the organisation
Shared Commitment
Regardless of the strategy chosen, it must be focused ultimately in establishing a shared commitment to a common goal. Without this foundation for good team work, any kind of team-building strategy will only have limited impact and influence. So before rushing a group into any kind of team-building activity or looking at relationships within a team, it is important to first establish this foundation of shared commitment.
Shared commitment can be encouraged by clarifying the team goals and identifying any issues which may inhibit the team from reaching these goals. Building ownership of these goals across the team is also vital, as well as putting team processes in place which have the correct sequence to help the team make progress along the "ladder of achievements".
You might also like...