A Community Group Leader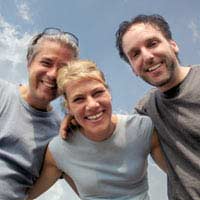 Being a community group leader carries equally important responsibilities as being a leader in other arenas – they can play a vital role in social development as well as in the establishment and development of important relationships throughout the local community.
Community Leadership
When most people think of leadership, they tend to think of the global politics or perhaps the corporate business world but leadership in the local community is very important as well. In fact, it is an essential ingredient in social development and can be the basis for great changes which affect a community and country on a national and international level.
Community leadership comes in a variety of forms – it can be provided by individuals or groups and it can be voluntary or paid. Very often, leadership is provided by a combination of volunteers, local businesses and local government. Effective community leadership enables a community group to expand – much like a business or organisation – by building on its stores of social capital and using the community resources to maximise productivity.
What Makes A Good Community Group Leader?
Community leaders have a challenging position to fill – they often have to lead groups composed of members from a wide variety of social, cultural and religious backgrounds – with many different perspectives – and they need to create an environment within the community group where all members feel comfortable and welcomed.
All leaders need to be responsive to their group's needs and this is especially so for a community leader – he or she must share in the local community's vision, goals and values. This shared vision, combined with practical objectives and inclusive practices, helps to gain commitment from members. However, the vision must be community-based and not self-centred.
Community group leaders have an important task in making the whole greater than the sum of the parts – i.e.. to assist the members of their community group to achieve as a group what they may not have achieved on their own.
Good leaders know how to encourage, maximise and value the varied expertise within a group through delegation and mentoring; and to invest in the "people potential" within the community group, so that "community leadership" endures when after the initial leader has departed. Essentially, a good community group leader is promoting the process of sustainable community development by empowering the other members in the group and sharing decision-making with other community group members.
Like all leaders, community group leaders need to have the trust of their followers. In this case, it may be gained from previous engagement or hard work within the community – or from the leader's personal integrity. Trust is also developed when leaders show that they recognise the responsibility they owe to their community group, through their attitudes, actions and approaches.
Challenges Of A Community Group Leader
One of the hardest tasks for a community group leader to do is to prevent the group from drifting away from its main purpose – something that easily happens. However, an effective community group leader can keep the group focused via the following:
Cultivating strong relationships within the group – by organising specific group events and team-building activities and making an effort to invest in relationships.
Promoting participation – by encouraging contributions at group meetings and being good navigators of discussion, such as asking open-ended question, so that all members feel a greater ownership of the group.
Multiplying the group's influence – by keeping the doors open for others to participate in the group's life.
These are just some of the ways a community group leader can help his or her group achieve success. However, it must be remembered that like other forms of leadership, community group leadership is not an exact science and therefore must be adapted to suit different groups, members and situations.
You might also like...