Developing Confidence in Women Leaders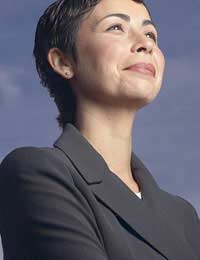 Women leaders face many challenges in the workplace and public arena, due to social and cultural stereotyping, gender biases and the constant struggle to balance work and family responsibilities. However, there is also one challenge that women often face which is entirely dependent on themselves and under their control – that of confidence.
Elusive Confidence
For some reason, many women are afraid to display confidence and assertiveness – perhaps they worry that it can be mistaken for arrogance - unlike their male counterparts who embrace it. And we all know, of course, that confidence is one of the big factors contributing to successful leadership.
Ironically, analytical studies done on over 60,000 senior level executives by a team of industrial psychologists revealed that women leaders actually ranked higher than their male peers in almost every respect (eg, communication skills, motivation, goal-setting) except one: confidence. They were much better and yet did not believe or act like they were better, or even just "good enough". They lacked confidence in themselves and their abilities, despite the fact they performed far better than their male counterparts. Conversely, male leaders can often have an exaggerated sense of their own abilities!
The Importance Of Confidence And Assertiveness
In many arenas, confidence – also often known as "executive presence" – can be just as important if not more than impressive credentials and track record. It is often the essential prerequisite for career advancement in our increasingly competitive world and it is certainly an essential attribute of a successful and effective leader. It is so important and often so lacking in women that corporations like J.P. Morgan Chase and the Shell Group have sent many of their high-potential female leaders to special seminars, in order to help them develop it.
Confidence or "executive presence" involves the ability to enter a room and instantly take charge, through your strong presence, while forging quick, personal connections with the other members of the team. Leaders with confidence or "executive presence" will always command respect and attention when they speak; and their determination and conviction inspires and motivates those around them.
Developing Confidence
The good news is that with the right training, support and practice, confidence and assertiveness can be acquired and projected. In fact, it is an area of competence which is more easily developed than some of the other leadership skills. Therefore, there is no reason why this one elusive characteristic should prevent women from achieving leadership success.
Women often have unconscious habits and attitudes which prevent them from projecting an image of confidence. Here are some tips on how to correct and avoid these, in order to develop and cultivate confidence:
Carry yourself confidently: stand tall, shoulders, back, head held high, weight firm in each step. If you look confident, you will also feel more confident.
Studies show that female ex-military officers rarely have problems when entering high-level positions in the corporate world, as these women have learnt how to carry themselves to that they look confident and self-assured.
Don't be afraid to voice your opinions and offer your contributions. You have a unique perspective which may be highly valuable.
Studies by consulting firms show that many female leaders leave meetings without having said much – this makes them appear passive and unengaged and damages their potential for career advancement.
Speak with conviction: don't use qualifiers or finish your sentences with the inflection of a question. This leads people to automatically doubt what you say.
Stop constantly worrying about other's approval – this can be a common female trait. Many women seek approval to the detriment of their leadership roles.
Believe in yourself and your abilities.
You might also like...