A Family Leader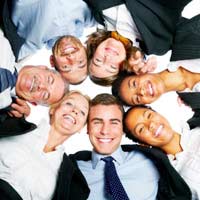 Leadership in most families is provided by one or both parents and they play a vital role in keeping families connected, successful and happy.
The Importance Of A Family Leader
Families are no different to organisations or businesses, with long-term goals, short-term aims, complex relationships, different personalities, needs and different communication styles between its members – and it is the job of a good family leader to ensure that all needs are balanced and that all family members are working together so that both the individual members and the family as a whole can enjoy success and fulfilment.
Parental Responsibility For Leadership
Most parents understand the important roles they play as leaders in the family and role models of leadership for their children. However, while many parents may be well-meaning and want to provide the best for their family, they may often be confused as to how to achieve this. For example, many parents often find it difficult to simply say "No" – to set limits, demand respect and still keep the lines of communication open.
Part of this is due to a social shift over the last century from the style of strict, authoritarian parenting to parents who desperately do not want to see their children unhappy. Today's parents often feel that it is more important for their children to like them and to be "popular". than to deal with children who may get angry at their parents for setting limits or enforcing discipline.
However, it must be remembered that it is possible to strike a balance to and to show leadership in a way that is loving but firm. In fact, with the right leadership in place, the outcome will be a family where the children not only like their parents but also respect them for showing good leadership.
How To Be A Good Family Leader:
The most important thing to remember is that regardless of who is considered the "head" of the family, parents must work together as a team – otherwise the leadership process will be undermined and ultimately, this will not serve the best interests of a child.
Here are some ways to be an effective family leader:
Expect respect – lead by example: model what respect looks like and expect your children to follow suit. For example, when your children act too demanding, do not respond like a servant – this will set the stage for future events. Give a clear message that disrespect will not be tolerated.
Stop justifying yourself – don't spend all your time trying to convince your children of the validity of your decisions. Remember, you are the leader of the family so have confidence in your position. There will always be decisions that you will have to make which your children will not like – this is acceptable and does not make you a bad leader or parent.
Teach good communication – show your children the difference between appropriately expressing negative emotions (e.g., anger) and disrespect. If a child is allowed to vent their anger inappropriately, this teaches them that this kind of behaviour towards others is acceptable.
Stand firm – don't be afraid to be assertive, even if it means that your children may not "like" you for a while. There are times when parents have to make it clear that certain decisions are just not open for debate, whether a child likes it or not. However, it may be worthwhile letting a child discuss his feelings and trying to negotiate a compromise for the future.
Being a family leader can be one of the most challenging roles you can take on – far more than just increasing business profits or improving an organisation's productivity, you are actually responsible for helping children grow into responsible adults.
Remember, consistency and persistence are the key and that winning your children's respect is ultimately more important than winning a temporary vote for popularity.
You might also like...
i just want to know what leadership point that suitable to use and describe leadership in sports as captain, family as the head of family, monitor class and leadership in company as boss. i have a presentation in grouping want to do a talk show in classroom situation and we need to agreed to only one point of leadership that can used in all types of leadership states at last of our presentation.
farare
- 8-Dec-15 @ 10:47 PM