A Religious Leader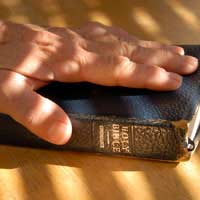 Being a religious leader is not as easy as some may believe. While they may not seem to have as many responsibilities and duties – nor the relentless demands of political campaigning – as political leaders do, they have challenging jobs too as they face constant competition from other sources for a claim on their members' loyalty, attention and time.
The Challenges Facing Religious Leaders
Religious leaders have a daily battle to mobilise their community to respond to their leadership. In the past, these efforts may have been supported by cultural and traditional practices that guide individuals automatically to the places of worship of their forebears, whether this is a mosque, a temple or one of the many different kinds of churches under the Christian Religon. However, nowadays, people are increasingly seeking out their own religious experiences and leaving their inherited religions to give their loyalty elsewhere.
Therefore, religious leaders are being forced to become more like leaders in the commercial business world and to have their use their leadership skills not only to guide but also to attract. They have to find ways to meet not only the spiritual needs but also the social and material needs of their members, if they are to maintain the membership of their religious community.
A good religious leader should also strive to reach beyond his personal ministry – by encouraging and engaging his members to help not only others in the community but even those in need outside the immediate community. In this way, the religious leader increases and improves his capacity to achieve his ministry of care. He is also able to raise his community's voice in public debate about the causes of humanity and justice.
Ultimately, an effective religious leader needs to have the vision and energy to inspire and sustain his members and to engage them in his religious vision.
Religious Vs Political Leaders
Despite often serving the same group of people, religious leaders have to operate quite differently from political leaders, such as government officials. For example, where political leaders can persuade the public using the language of civic duty and even personal interest, religious leaders instead rely on the language of "God's will" and on the desire of his members to serve God, however they envision God to be in their particular religious framework.
Furthermore, unlike political leaders who can mobilise financial resources and have legal authority from external sources to help them achieve their goals, religious leaders have to seek voluntary assistance and moral support the members of their religious community in order to achieve their goals.
However, despite their differing methods and possibly different leadership styles, religious and political leaders do have several things in common – for instance, they often a common purpose in trying to house the homeless, help the needy, care for the sick and disabled, etc.
Therefore, a religious leader who can find ways to work with the political leaders in his community can achieve a lot for his members – they can achieve more prominence for their religious community and increase its standing within the society.
You might also like...
A religious leader is in a unique position, and there are many religions all teaching different things. One thing they generally have in common, though, is that the leaders are men of peace and wisdom who've devoted their entire lives to their faith. Without those qualifications it becomes hard to take him seriously.
reverend
- 26-Sep-12 @ 1:40 PM