Different Leadership Styles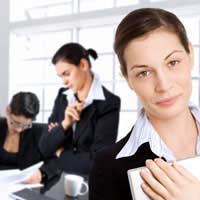 There are many different ways to be a good leader and studies conducted have identified several distinct "styles" of leadership. These can be categorised in a variety of ways, each using different methods, techniques and tools to achieve the same result of providing direction, implementing plans and motivating a group. Each leadership style will have varying degrees of success in different situations and their effective use will also depend on the personality and personal skills of the "leader" involved.
Leadership styles are commonly divided into 3 major types:
Authoritarian Or Autocratic

Leaders using this style will have total authority over any decision-making and will basically tell their followers what needs to be done and how the tasks should be completed. While there is a never an excuse for an abuse of power, this style does have its place and its uses – it is particularly effective when time is limited, such as in an medical emergency, when it is vital for someone to take charge and prevent any chaos or confusion. It is also good for groups that need close supervision and would not necessarily have much useful to contribute to any decision-making process, such as when dealing with young children or very inexperienced employees.

This style can also work well in a normal workplace setting if your employees already well-bonded and well-motivated – and have trust in you as their leader. However, it is not generally recommended to use the autocratic style all the time as this can lead to loss of motivation from followers, as resentment builds. This is particularly true when dealing with creative employees and team players, who may be keen to participate in the decision-making processes.

Participative Or Democratic

This kind of style prioritises team participation and because each member is allowed to contribute his/her ideas and feels that their input is considered seriously, there is increased employee satisfaction and ownership. The democratic leader will listen to his group's ideas and give them fair consideration, although the ultimate authority for the decision will still rest with him.

This style is often used in the workplace when the leader has some of the information needed and the employees have the other necessary parts, so that a better decision can only be taken when everyone's input is considered. It is especially effective when you have knowledgeable and skilled employees. However, one drawback of this leadership style is that it can make it difficult to make quick decisions when time is short or there is an immediate urgency to a problem.

Delegative Or Free Reign

This leadership style is also often called "laissez-faire" leadership, meaning that followers are effectively given free reign to make decisions and do what they think is appropriate. There is no continuous supervision or feedback from the leader to the group. Although this sounds risky, this leadership style can work if team members are highly-experienced and require little supervision to achieve the expected outcome. It is also useful because a leader isn't always able to do everything and often needs to delegate certain tasks, therefore, this style of leadership works well if the leader is able to trust and have confidence in the abilities of the people below him/her.

Note, however, this style can also be an excuse for a "lazy" leader who fail to supervise their team members and essentially doesn't lead at all. This results in a lack of control and a loss of productivity as well as higher costs, especially in an organisation, as well as bad service and/or a failure to meet deadlines.
Leadership Styles In Real Life…
In reality, most good leaders will use a combination of these main 3 types of leadership styles to achieve the best result in each specific situation. Naturally, one style may be more dominant or more often used than others, due to the leader's personality and personal skills, but often, the situation and environment will also dictate which style is more suitable.
In some cases, all three styles may be used at the same time – such as a leader informing the group that a current procedure is not acceptable and that a new one needs to be established (autocratic), then asking for their ideas in creating a new procedure (democratic) before finally delegating certain tasks to different team members, for the implementation of the new procedure (delegative).
You might also like...