How Effective is Your Leadership in the Workplace?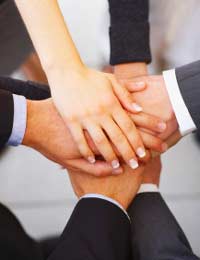 To be an effective leader in the workplace it is important to have a good understanding of the qualities, behaviour and vision that is most likely to empower your team of followers. An efficient and effective leader's responsibilities also extend beyond setting goals and direction, which means that they must be competent and confident in their own ability to adapt to any situation.
How Effective Are You?
Being honest about your personal leadership strengths and weaknesses will enable you to direct your focus to ways of improving your communication and motivation skills in the best way possible. A good leader possesses the skill to encourage, motivate and empower others to perform to the best of their ability and to stretch an individual's potential.
How to Change Negative Management
As a leader, if you are unable to demonstrate honesty and integrity you will find that your leadership position may be called into question from time to time. Followers expect to act on the request of someone they hold in high regard, which means that a leader's personal values will be taken into consideration. If a leader is not able to practice what they preach, so to speak, others will appear less interested in following direction and guidance that the leader has set.
To ensure your leadership skills are not called into question it is useful to acknowledge and accept any personal weaknesses you may have which manifest in the workplace. This may include issues concerning anger management or the fact that you are a workaholic. Accepting that there may be areas that would benefit from self-development will enable a good leader to lead by example.
Key Leadership Requirements
Leaders must acknowledge the fact that followers expect to be directed by competent, well-informed managers. If your leadership skills are considered a little weak or less than effective it is your responsibility to sharpen your skills considerably. To lead effectively a leader or manager must be able to command respect, motivate and inspire others and be willing to carry the can for anything that goes wrong.
An effective leader knows how to get the best possible results from other people. He/she is able to communicate openly and directly, inspires confidence in others and values the contribution each team player makes to the overall outcome. Without all of these abilities a leader's efficiency and effectiveness will undoubtedly be affected in some way.
Promoting Leadership Qualities
All good leaders will want to explore the potential in the individuals that he/she manages and directs. This is best done by encouraging individuals to take full responsibility for their actions, to become more involved in the tasks and projects and by valuing their commitment and contribution. Improving standards and exceeding goals and objectives will also empower followers to further explore their own personal potential.
Within a team there may well be a number of potential leaders, who possess the skills and capabilities to lead or manage effectively. An effective leader will always be aware of these individuals and will encourage them to explore these skills through training and developing leadership programmes.
You might also like...