Are You a Leader or a Follower?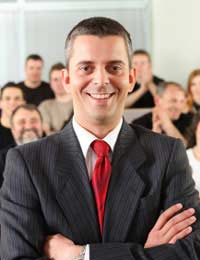 Understanding, and accepting, your natural skills will enable you to figure out how to increase your knowledge and expertise. Some of us have leadership potential, whilst other individuals may find they are more competent and confident followers. Acknowledging which title best defines you and your abilities will therefore empower you to work to your strengths.
Common Stereotypes
A person who rules or guides others is known as a leader. This person may also possess good motivational skills. A follower or team player, on the other hand, is an individual who accepts the leadership of another person. A common stereotype of these roles however, is that a leader is someone who is in charge of a team or situation or is simply an individual who is seen as being higher up in the hierarchy. A more appropriate definition of a leader would be someone who makes the final decision.
Leadership Qualities
Leadership is a process and not a position. In order to take charge of a situation it is important that the individual in charge is able to motivate and inspire others. The necessary skills required to do this should also be complemented by the charisma to persuade others to work towards achieving success. Within a team of followers however, there may be a number of leaders who help set direction and commitment to a project, and help create a focus for alignment.
Natural leaders are confident people who draw other people towards them with ease. Having good interpersonal skills is beneficial, as too is having the confidence to be socially assertive and the flexibility to adapt to any situation.
A Follower's Mindset
Followers may be as skilled, motivated, competent, confident and knowledgeable as a leader but may find they prefer to take action from request rather than inspire and persuade others to do so. Followers may also enjoy contributing within a team of individuals, or working to create impact in other ways, without having to be responsible for outcome.
Carrying Responsibility
Managing a course of action according to the situation is an effective way of utilising a number of important key skills. As a leader you are expected to motivate others to complete tasks or projects. You are also expected to carry responsibility if this is not achieved successfully.
A leader is also responsible for influencing others and inspiring them to develop their skills and abilities. Followers, on the other hand, need to know that their individual contribution is valued. This means that a leader must not sabotage a follower's efforts in any way, but offer praise for tasks that are completed successfully.
Important Considerations
If you are a leader it is important that your followers are able to trust you. If other people have confidence in your judgment your leadership skills will continue to grow. Your success is considerably impaired however, if followers feel there are discrepancies between how you view yourself and the knowledge and experience that you share with them as a leader. Ensuring you continue to develop leadership skills, through feedback from your team of followers, will enable a leader to motivate and inspire with renewed confidence.
You might also like...