Examples of Leadership Games?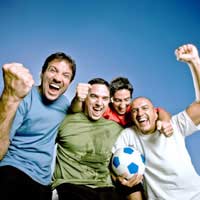 Q.
Can you give me some examples of leadership games or exercises that help to find the most natural leader among a group of people? An example of what I'm looking for is:
A teacher blindfolds all people in a group and tells them to form a circle. He gives them a circle rope on which all of them have to put their hands.Then the teacher asks the people to form a square.The first one who takes initiaive and start giving directions (says something like: I'll be the corner') is the one that has natural leadership abilities. I'm looking for similar examples.
(E.A, 3 July 2009)

A.
Leadership Games provide an opportunity to gain a better understanding of the importance of trust and trustworthiness as well as identifying win-win situations. Experiential learning games are designed to develop key skills, that include leadership, innovation, collaboration, risk assessment and conflict management. Training games can take many different forms. However, most will require facilitation and participants who work together to achieve a positive outcome.
The Blindfold Game
Using a blindfold and working with two separate groups presents an opportunity to reverse roles so that each individual takes a turn at leading and being lead. The individual who is blindfolded will have to trust their partner will communicate effectively, without speech, so that they are able to identify objects that have been arranged around the room for identification. The leader must guide the blindfolded person to the object and help them identify the object through use of their remaining senses. The leading individuals are in complete charge of communicating, encouraging, motivating and showing trustworthiness in the situation and they will show the effectiveness of their leadership style and skills during the course of this exercise.
Quote Notes
Another interesting game is introducing leadership awareness by taking turns to make a powerful personal statement about what makes a good leader. This is an excellent way of encouraging positive participation. Inspiring quotes, which can be printed out on paper, are simply placed around the room and individuals are given the time to explore the powerful motivational quotes. This encourages further discussion on the topic of leadership and helps players to identify their own strengths and weaknesses.
Interactive Activity Challenge
Leadership games involve many different levels of key skill use and can be short or lengthy events. Most games will involve tasks that require managing people and completing some kind of unfamiliar task. Games that involve defining a problem and finding a solution provide the ideal opportunity to test an individual's natural skills and ability in the workplace.
Games that involve managing people allow individuals to get a better understanding of dealing with technical issues and people problems, whilst utilising applied team skills. For example, a game that requires product design, cost calculation and project management may present problems like the loss of focus and objective, as well as misinterpretation of goal.
The Importance of Reinforcement
Once leadership has been explored through games and role-playing reinforcement of these important skills is essential. Establishing a solid foundation and core leadership values will also encourage the individual to self-evaluate their ability and to continue improving their leadership skills.
You might also like...